If you want jewelries for your wedding or traditional wedding or perhaps you are looking to spice up your jewelry box, I have found a way to make that happen for you.
I think I should let you in the latest wirework queen in the heart of portharcourt, the garden city of Nigeria.
Let me explain myself.
Majority of the beautiful jewelries you see on our female celebrities are aristically woven by proffessional wireworkers (jewelry makers).
In the past most people travel outside the shores of Nigeria to purchase this beautiful jewelries but the situation has now been made better.
Whether you have a wedding coming up or a traditional marriage, contact Mary for your wireworks (beautiful jewelries), she is the latest wirework queen in the heart of the garden city. Just tell her what you want and the rest would be history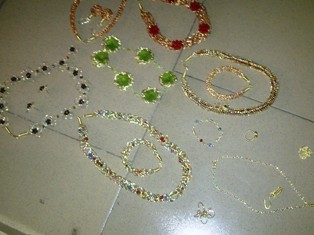 I have seen some of her beautiful jewelry, they are simply breathe-taking, you need to see them for yourself.
If you have an occasiion coming up and you truely want to look gorgeous, or perhaps you want to have beautiful jewelries for keeps contact Mary on – 08181382778 or 08140064844
You can also contact her to see some of her beautiful wireworks @ marynzom@gmail.com
It is said that face to face is better than hundred letters, if you live in portharcourt city or Oyo state put a call straight to Mary and you can get talking about how to beef up your jewelry box.
Have a wonderful time.