Here is how to make the easiest Nigeria soup.
Ever wondered if there is an easy Nigeria soup that you could crack up in less than an hour?
I think I just made such a soup, it is catfish (point and kill) soup
Here is the easiest and simplest Nigerian Soup, Actually I made the soup below in about forty minutes, the whole preparation took about 45 minutes.
This soup turned out perfect, the video below would attest to that, it was made with fresh fish, dry fish and vegetables. Now you are probably imagining what it would look like.
Ingredients includes:
3 medium sized cat fish
3 medium sized dry fish
a cup of crayfish
2 cubes of knorr or maggi cube
10cl of red oil
a handful of uziza leave
a handful of utazi leave
a bunch of ugu leave
salt and pepper to taste.
Half cup of ground ofor or achi (thickener)
How to prepare the easiest Nigeria soup
Like I stated initially, this soup would take about 45 minutes and would serve close to ten persons.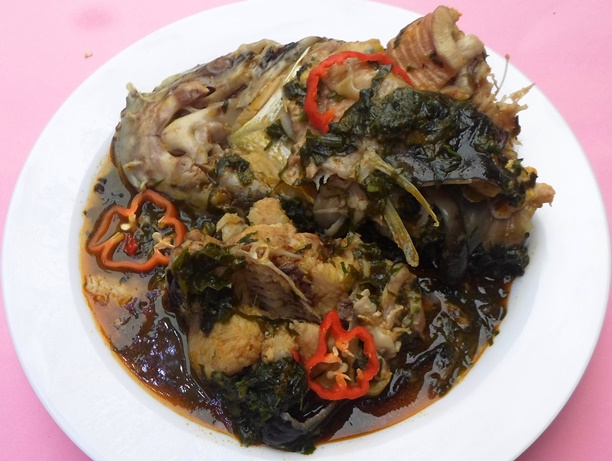 Easiest Nigerian Soup
Preparation: wash the fresh fish with hot water, this part should be followed cautiously. I discovered that most people chose to wash catfish with just cold water and cook like that; it's not a habit I fancy
Drop the catfishes in a big bowl, pour in hot water and scrape the back with a knife, wash thoroughly and set aside.
Blend the crayfish and pepper.
Set the cooking pot on the fire and add about 1 liter of water, wash the dry fish with hot water and add to the pot on the fire.
In my case, I used this sungu fish. sungu fish.

Add about 100ml of red oil and allow boiling for about 5 minutes before adding the ground crayfish and a cube of maggi.
Allow cooking till the dry fish is tender enough (this would probably take about ten more minutes or less).
Stir and taste for salt and maggi, add the ground ofor or achi to thicken the soup, I always chose to make my catfish soup a little bit watery (not very thick). Add about one and a half cooking spoon full as you would find in the video below.
Stir and cook for just one minute before dropping in the thoroughly washed catfish, spray the uziza and utazi leaf on top.
You are almost done with making the easiest Nigeria soup (I told you it would be simple).
Cook for about ten minutes (it would start burning if you added lots of ofor or achi, perhaps one of the reason I prefer to make it a little watery)
Then taste the soup and add more salt/cube of maggi if required, add the chopped leave and and some sliced pepper. You are done with making cat fish soup – The easiest Nigerian Soup

Have you seen the Ultimate Nigerian Cookbook? –
It is the best resource in the world for making Nigerian foods.
It is made with world class equipment, all for you!
Here is The Link to Other Nigeria Soups

Egusi Soup.|

Ofe Nsala. | Ofe Onugbu (bitter leaf soup)
In case you prefer to watch videos, here is the video to make catfish (vegetable soup)