Nigerian foods in a Nigeria home is always prepared by the woman of the house or first daughter as tradition permits. However, there are exceptions to this rule.

This is an introduction to Naija foods
In case you are looking to make Naija foods with ease and full confidence you are at the right place
Most foods in Nigeria are easy to make, I try as much as I could to demonstrate this with comprehensive articles and detailed video guides on how to make Nigerian foods
At the bottom of this page, you would find a video on how to make ogbono soup in Nigeria, it was actually the first video I made in my kitchen, the Nigerian Kitchen. You've probably heard that before.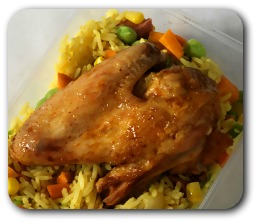 You can also learn How To Make Fried Rice Here.
While the three major tribes in Nigeria – Hausa, Igbo, And Yoruba have their traditional kind of foods like "tuwo shinkafa" popularly eaten by the Hausas or Nkwobi eaten by the Igbos.
We also have foods that are generally accepted by the
People of Nigeria.
Like cassava, rice, maize, Beans and different kind of soups while palm oil serves as a common denominator because of its presence in most Nigerian foods.
Most Popular Nigerian Foods
Among the many foods eaten in Nigeria some are more popular than others. Take the egusi soup for instance,
Nigeria egusi soup is the most popular soup in Nigeria, it is eaten by the three Nigeria major tribes and visitors to Nigeria prefer egusi soup and pounded yam to other foods.
Second, on the list of Nigeria popular foods is Eba or are. Garri is a product of cassava and it is eaten with different kinds of Nigeria soups.
There are lots of other Nigeria foods that you can find in most of the Nigerian restaurants, like Jollof rice, Fried Rice, porridge yam, porridge beans, rice with stew and many other.
My Favorite Foods in Nigeria
I like to eat rice and plantain with well-prepared stew, although I don't always have the time to prepare this so I prefer eating garri and egusi soup which is easy to make and always in my fridge. I also like draw soup (ogbono soup) and then lots of snacks.
Have you seen my article on
Making Porridge Yam?, follow the link now!
If you want to talk about Nigeria foods in general,
it would be important to consider the different tribes of Nigeria.
The six geopolitical zones
that makes up the Nigeria nation, our foods are made and eaten in almost all parts of the world with Nigeria restaurants
being built in almost every country in the world.
More On Foods in Nigeria
There are several places in Nigeria where you may choose to hang out after a tough day. Personally I have been to quite a few of them. I know where you get hot freshly prepared fresh fish.
pepper soup with utazi and Ugba
at Oshodi.
There is also one cool pepper-soup joint in rumuokwuta Port-Harcourt though I can't give the exact location at the moment,
I would find that out.
I am the outgoing type I like to be seen where it is happening,
I always want to be at the hottest places in town (that's just me).
By the way, it is now very easy to tell fellow Nigerians about your favorite joints or cool restaurants.
With our latest "content 2.0" it is now very simple to create a business page or share a story.
Most people get lost in most Nigeria big cities because of insufficient facts about the city on the internet.
What do you know about your city? cool joints, best night club, best food place, whatever; Tell Us So we Wouldn't Get Lost In Any City
Here is my favorite article on
Nigerian desserts,
you can learn everything about Nigerian desserts, I included an interesting tip on making the all-too-popular SUYA
Here is a comprehensive list of all the
Foods Eaten In Nigeria
Do you have a nice eatery, joint or restaurant? Tell Nigerians and the world about it, you can even add a picture or graphics of the foods, meat or drinks or whatever picture about the place.
Learn to Make Delicious Nigeria Foods In The Nigeria Kitchen
Fact About Nigeria.com – Nigeria Food