Here are all the Interesting facts about Nigeria, information about Nigeria geography, economy, the people's way of life.

I went all out on current happenings in Nigeria and with a more comprehensive and straight forward information about the country Nigeria.
The situation of things in Nigeria. We have information on the living conditions of the People of Nigeria, Health facts on Nigeria and even religious facts
General Nigeria Facts
Nigeria is a country of over one hundred and fifty million people, being the most populated black nation on earth, enormously rich in mineral resources as well as human resources. The country is made up of 36 states and Abuja, the federal capital Territory.
Lagos state of Nigeria is the most industrialized state and the former capital of Nigeria, with over nine million people, it is the second most populated state in Africa, second only to Cairo. The state is the most recognized Nigerian state with over ninety percent of all the tribes in Nigeria being represented.
According to preliminary results from the 2006 national census, the second most populated state in Nigeria is Kano with about 3.8 million people living in it, third on the list is Ibadan with about 2.6 million in population, followed by Kaduna (1.7) and Port Harcourt with 1.3 million people living in it.
Fact About Nigeria Geography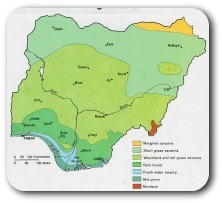 Interesting Facts About Nigeria Geography
Nigeria is the largest country in West Africa, sharing borders with four other African countries – Chad and Cameroon in the east, the Republic of Benin in the west, Niger in the north while it borders with Lake Chad from the northeast.
Nigeria is estimated to be twice the size of California, being about 923768 sq km (land area) and leaving just about 13000 sq KM to water.
There are three ecological zones that are commonly represented in the country Nigeria – The northern Sudan Savanna, The Guinea Savanna zone of Middle Belt and The southern rain forest zone.
Interesting Facts About Nigeria Economy
Here are interesting facts about the Nigerian economy – The Nigeria Economy is highly dependent on oil revenue which accounts for over 70% of our exports and brings in over 60% of government total revenue.
In 2007 Nigeria had an estimated gross domestic product (GDP) of US$166.8 billion according to the official exchange rate and US$292.7 billion according to purchasing power parity (PPP), this figure had an increase of 5.40, 5.05, 5.48 percent from 2008 to 2010 respectively.
Nigerian Per Capita Income was estimated at $2,748 by the world bank. It is believed that Nigeria has what it takes to put the name of the country on the G20 list by 2020, all it would require is good leaders and efficient governance.
In 2009, Nigeria's economy was estimated to be the third fastest-growing economy in the world… If that is something.
Below is more Interesting Facts About Nigeria.
Health Facts on Nigeria
The Nigeria health system requires a lot of "fixing" for average Nigeria to totally rely on Nigeria hospitals. Only very few hospitals in Nigeria have complete equipment that is required for optimum performance.
It is no longer news that most Nigerian politicians seek medical attention off the shores of Nigeria, it is believed that Nigeria health facilities are not as advanced as what we get in developed countries but we hope that the new generation in government will change all of this.
Facts About Nigeria Transportation System
The major system of transport in Nigeria is road transportation, Although it accounts for over 50% of all recorded accidents.
On a busy day, average Nigeria prefer to move around with okada (motor-bike riders), it is the easiest and simplest way to beat the traffic… and which is more…, you get comfort and confidential treatment… at least for me.
Air Transportation is the most lucrative way to move around in Nigeria, it comes with very little risk and almost complete rest of mind.
Nigeria is working pretty hard to improve the transportation system in Nigeria by constructing more roads and renovating already existing ones.
Lagos state is on the verge of constructing the first light rail system in West African, we just hope it doesn't remain "unfinished" forever.
There are three basic religions in Nigerian, the Islamic religion which is prevalent in the northern part of the country, the Christian religion which is widely practiced in the eastern part of Nigeria and the middle belt and the traditional religion.
The Islamic religion was introduced to Nigeria by a trader from Mali ( according to history) while The Christian religion was introduced to the Easterners by British missionaries
About Nigeria Languages
There are three main
Languages Spoken in Nigeria – Hausa Igbo and Yoruba then about a hundred other minor languages in Nigeria. English is the central language used in secondary schools and universities.
The Educational system of Nigeria is unlike what we have in other countries, in Nigeria it goes like this – most people start from the age of 1.5 to 2 years in Nursery school, then at the age of about 3 to 4 they migrate to primary school, then secondary school at the age of about 10 to 15.
In Nigeria, the educational system is such that you can move into the tertiary institution (College of education or universities) at any age although you will not be allowed to attend youth service if you are above 35 years or thereabout.
You need to see this page about
Nigerian Men
Here is a page about Beautiful Nigerian Girls,
a reason to be proud of the country.