Are you searching for Nigerian girls? What do you hope to find, what do you want to do with a girl from Nigeria?
We are hoping to feed your appetite with whatever you are looking to find about pretty Nigerian babes, their hopes, aspiration, dreams, their kind of men, educational level and character.
We give you insider tips on how to marry a Nigerian girl and even tips on finding and dating a black chick from Naija – What you wouldn't likely find anywhere else on the web.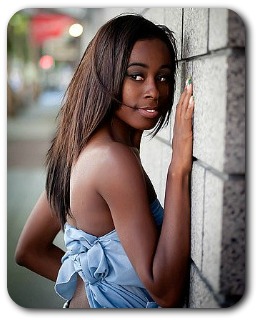 What do you want to find about Nigeria girls, their hideout? I will even give you that, follow me and you would have me serve them up one after the other.
Traditionally, In Nigeria, it takes a man to complete a woman, like in the most parts of the world, everything a woman does; from going to school to getting a degree is to make herself appealing and more probable to find a fine husband (in most cases). Most times it takes great effort for a woman without a man to get noticed.
Girls from Nigeria are not that different from the rest of the world, with those same yearning and desire to be loved and cared for they have that same hunger for pretty things and always wanting to fly away, not always having a detailed look at matters and all that women intuitive psychology.
Here is a complete and unbiased secret you wouldn't want to miss about Nigerian pretty girls – an insider tip… From the world's number 1 dating coach.
Dating Nigerian Girls
Like I said… Nigerian girls are like every other chick in the world with those same yearning and desire to be loved and cared for. In Nigeria, more emphasis is laid on the man, the man is the head of the family so if you are looking to date a Nigerian girl you may want to get ready.
It takes confidence to approach a pretty lady and women get attracted to confident guys, not boys, they want a man, someone that can make good decisions, someone they can rely on, Nigerian babes can separate a confident guy from a wuss within the first minutes of conversations, so if you are looking to date girls from Nigeria, here is more tips…everything to dating pretty chicks. You better buckle up
How to Marry Nigerian Girls – Nigerian Weddings
Marriages in Nigerian involves three different stages, first is the introduction – here the man brings his people to the house of the girl on an agreed date for proper introduction like the name goes,
the man is introduced to the girl's family as a suitor (normally done by his father or uncle) while the girl is called out to see who is asking for her hand in marriage and make proper identification, the "introduction" part involves a simple introduction and then refreshments.
The second stage to marrying a Nigerian girl is the traditional marriage, here the door is thrown open to the general public, unlike the "introduction" part where only a few members of the family are invited. It is marriage in a traditional way, the village chief and all villagers are invited.
Friends and associates too are invited, normally; it is just a traditional way of telling the whole world that they are getting married. The event is spiced up with music and different kind of cultural dance display, swift acrobatic moves and of course, lots of palm wine and sometimes masquerades too.
Then time is set aside for the couple to display their dance steps while being surrounded by friends and relatives who spray money while they dance.
The church wedding is the last stage of marital rites in Nigerian and it is the most recognized and respected. The court marriage is of very little importance as the most couples are expected to live together forever, you know like they say it – "for better and for worse"
Nigerian girls are taught at home before marriage that the man is the head of the family, so they do almost nothing if the man is not in support.
Read this article about Nigerian Weddings
Nigerian Girls and Education
Most Men in Nigeria believe that an educated wife
is better equipped when compared with the uneducated fellow, so most girls in Nigerian are advised to go to school.
Women strive to get educated in Nigerian, although this aspiration is often hampered by the yet poor educational system still prevalent in Nigeria. More than sixty percent of the people who veer for entrance into the university actually don't get admitted for different reasons.
But this situation is already mapped out to be curtailed, and with a good government we would hit the sky.
Insider tip on Nigerian People
Weird things About Nigerian Men
How to Find and Date Lagos Nigeria Girls
Back to Facts About Nigeria Homepage From Girls From Nigeria